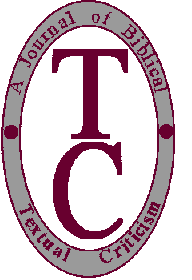 TC: A Journal of Biblical Textual Criticism:
Volume 3 (1998)
Click here to see articles from TC 1 (1996) or TC 2 (1997).
It is no longer necessary to download the Scholars Press fonts to see TC articles with Greek, Hebrew, and other non-Roman characters in the original scripts! The latest editions of Netscape Communicator and Microsoft Internet Explorer allow users to see non-Romans characters on their screens without further effort. For more details, see TC Notes 3. TC readers without the latest browsers should still be able to view the original script articles if they have the proper fonts installed.
For people who do not have a browser that displays non-Roman characters, viewing Hebrew, Greek, and other languages is problematic. TC uses a standard transliteration scheme in the regular HTML and text versions of all its articles. Words that are transliterated in the text are enclosed in tags that indicate the language of the words, for example, <heb> (Hebrew), <arc> (Aramaic), <grc> (Greek), and <syr> (Syriac). Click here to see a more complete list of abbreviations.
Articles
No articles from TC 3 (1998) are currently available
Reviews
One of the goals of TC: A Journal of Biblical Textual Criticism is to provide informative and timely reviews of books in the field of biblical textual criticism. Anyone who would like to suggest a book for review or who would like to volunteer to be a reviewer may contact the TC book review editor, Leonard Greenspoon (ljgrn@creighton.edu) or the general editor, James R. Adair (jadair@rosetta.atla-certr.org).
Barbara Aland, Kurt Aland, Klaus Wachtel, Gerd Mink, eds., Novum Testamentum Graecum Editio Critica Maior, vol. IV, installment 1: James - HTML, HTML original scripts, text (J. K. Elliott, reviewer)